Livestream will begin at 9:30 AM Eastern
The Medical College of Georgia-Augusta University designates this live activity for a maximum of 6.25 AMA PRA Category 1 Credits™**
Join us for a day of lifestyle and culinary medicine learning from an interdisciplinary team of experts
Delve into the latest research in these emerging fields of medicine. Your day includes two culinary medicine workshops with a registered dietitian, well trained chef, and two movement workshops designed to get you out of your seat! Learn the latest in nutrition, exercise physiology, mindfulness, and how to be well from experts across the U.S.
Noncompliance or Lack of Resources? The Complexity of Food Insecurity and the Effect on Patient Outcomes.
Presented by
Cassie DeFeo, MEd, LPC, RDN, LD & Matthew Homen
Beyond Supplementation: Helping the Active Patient Create Foundational Habits for Metabolic Health.
Presented by
Cassie DeFeo, MEd, LPC, RDN, LD & Benjamin Shelton, Clean Your Plate's Executive Chef
Deep Breaths: Mindfulness and the Science of Slowing Down.
Presented by
Brigitte Morin, MS
Heart Rate Variability: A New Way to Examine Well-being.
Presented by
David Richardson, PT, DPT, OCS
Physicians as Community Advocates: How We Can Step Outside Our Clinic and Enact Change.
Presented by
Danielle Shelton, MD, DABFM
Next Generation: The Evolution of Lifestyle Medicine in Medical Education.
Presented by
Michelle Seguin MD, DABFM
The Georgia Moms Project: A Look at Maternal Mortality.
Presented by
Eesha Oza, Medical College of Georgia-4th year medical student & Elizabeth Gray, MD
**This activity has been planned and implemented in accordance with the accreditation requirements and policies of the Medical Association of Georgia through joint providership of The Medical College of Georgia-Augusta University and Clean Your Plate, Inc.. The Medical College of Georgia is accredited by the Accreditation Council for Continuing Medical Education (ACCME) to provide continuing medical education for physicians.
The Medical College of Georgia designates this live activity for a maximum of 6.25 AMA PRA Category 1 Credits™.
Physicians should claim only the credit commensurate with the extent of their participation in the activity.


We know times have been tough. We at Clean Your Plate firmly believe that wellness is for everyone, regardless of personal resources. Please don't let cost be a factor in deciding to be a part of The Wellness Project. Let us know how we can support you. We are in this together. We mean it.*
*Sponsorships are subject to approval by the Sponsorship Committee. Sponsorships are limited, and will be granted on a first come, first serve basis as our sponsorship fund allows.

Proceeds from The Wellness Project will go to funding Clean Your Plate's Edible Rx program. At Clean Your Plate, we believe in the practical implementation of lifestyle and culinary medicine in real communities, for real people. The pandemic has shed light on health disparities in our own community.
Thus, we have expanded our intervention outside of just culinary gardens designed to supplement fresh produce for food insecure patients. Edible Rx works similarly to a vegetable prescription program where we additionally host monthly culinary medicine workshops and teach the Student Athletes and their families the science of eating well. Edible Rx hopes to ensure health literacy and healthy eating habits for generations to come.
The 2021 Edible Rx program spotlight organization is Costal Outreach Soccer of Glynn County, GA.
Founded in 2004, C.O.S. provides support for Southern Georgia's most underserved youth through competitive soccer teams and much more!
To date, C.O.S. Student Athletes have earned a total of $370,000.00 Academic and/or Athletic Scholarships.
Academics
C.O.S. Student Athletes have a 100% High School graduation rate
Athletics
C.O.S. player selected for Bahamas Men's National Soccer team, CONCACAF Nations League games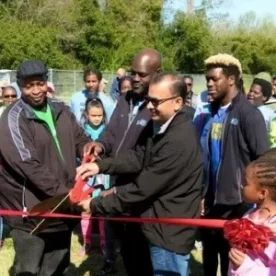 Community Service
C.O.S. Student Athletes have completed multiple community service projects