Join Us For A Weekend Of Lifestyle And Culinary Medicine Learning From An Interdisciplinary Team Of Experts. Delve into the latest research in these emerging fields of medicine. Your weekend includes culinary medicine workshops, well trained chefs, movement workshops designed to get you out of your seat, nature therapy immersion, and a day at the San Diego Farmers Market! Learn the latest in nutrition, nature therapy, exercise physiology, mindfulness, and how to be well from experts across the country in the diverse and very sunny San Diego!
There are also optional events throughout the weekend designed to help fundraise for local physicians in their endeavors to educate and empower their communities as well as highlight the culinary and ecological richness of San Diego.
Super Early Bird Registrants receive a free welcome bag with local goodies.
**Please note that all conference events take place in downtown San Diego or La Jolla.
*AMA PRA Category 1 Credit™ Pending

*Total Credit Hours: 17.5 hrs including some optional add on credit
Bringing together experts from across the country

Taste the culinary and ecological diversity of California at the Garden Kitchen tasting menu event.
Proceeds will fund Erin Presant, DO and her work in Santa Barbara, CA to fund scholarships for underserved populations at risk for or diagnosed with, diabetes, obesity, hypertension or other metabolic diseases to attend the 6 week course that is an introduction to the basic principles of food, nutrition, shopping, prepping and cooking. We hope to expand her community's access to education and services that would empower them to make lifestyle changes  and lead healthier lives regardless of their personal resources.
*This event will sell out. Tickets open to the general public after super early bird ends.
Those attending the conference may purchase a ticket for their travel companion etc before general public access.
Saturday evening's dinner brings you a unique opportunity to enjoy being and eating at Olivewood Gardens and Learning Center's historic 7.85-acre property in National City, California.This space is home of The Kitchenistas who are showcased in the multi-film festival selected documentary: https://thekitchenistasmovie.org. This film is about women advocating for healthy food traditions to change communities and transform lives. It shows the giant role empowerment through knowledge of food and culinary literacy has have on individuals and communities, far beyond the kitchen.
Olivewood Gardens and Learning Center's purpose is to build healthy families and a healthy environment. They do this through science-based environmental education and nutrition lessons, hands-on gardening and cooking classes, and job skills and leadership development programs for youth, adults, and families. https://www.olivewoodgardens.org
Max capacity: 60
**This event will sell out. Tickets will open to the general public after super early bird ends.
Kimberly Loomer
Ph.D.

Dr. Kimberly Vess Loomer currently serves as the Associate Dean for Learner Well-Being and a Professor of Psychiatry & Health Behavior at the Medical College of Georgia, Augusta University. Dr. Loomer is passionate about students, community resilience.
Erin Presant
D.O.

A board certified Neurologist and fellowship trained Movement Disorders specialist, Dr. Presant has founded The Medicine of Yum, her new virtual Culinary Medicine endeavor. She is passionate about empowering her patients and feels that culinary medicine is a way to do that.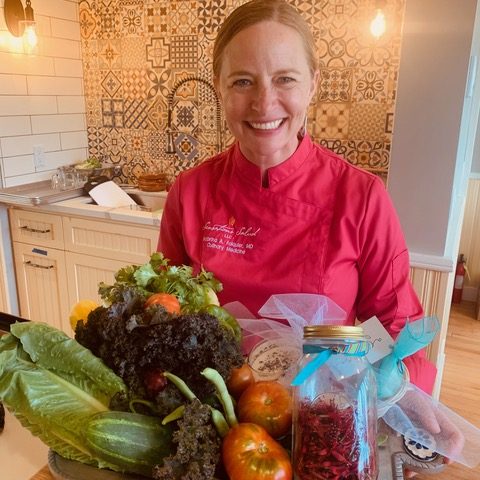 Sabrina Falquier Montegrain
Dr. Falquier (Fall-Key-A) is a board certified internal medicine and culinary medicine physician. Dr. Falquier promotes culinary medicine throughout San Diego and internationally in a variety of ways and to varied age groups and audiences including: hands-on cooking events, cooking demonstrations, both live and virtual, animated speaking engagements, expert panels, recipe development, recipe modifications for optimization of health, and active social media presence.
Kathryn Martin
Associate Dean of Regional Campuses Medical College of Georgia At Georgia Regents University As a community leader Dr. Martin has served on a number of local boards across the state including chairing the board for Chatham County (Savannah) Board of Health, Resilient Georgia, the Mayor's initiative Healthy Savannah and is currently President of the North Augusta Cultural Arts Council.
Brigette Morin
M.L.S., M.A.

While teaching health science at Michigan Tech, Brigitte became interested in the science of mindfulness and yoga. This inspired her to create her own course, The Biology of Movement and Meditation, where she not only teaches her students the current understanding and benefits of mindfulness and yoga practices, but teaches them how to incorporate it into their everyday lives.
Michelle Seguin
M.D.

Michelle Seguin MD, FAAFP is a board certified family medicine physician, co-founder of Re:Think Health, and Director of Community Health at the Portage Health Foundation. She is also a Clinical Assistant Professor in the Department of Family Medicine at the Medical College of Georgia and Michigan State University College of Human Medicine.
Ends June 15
in person tickets include San Diego Vendor Welcome Bag
Ends Sept 30
Regular Registration
$1,900
$1,200
Need a Sponsorship?
We know times have been tough. We at Clean Your Plate firmly believe that wellness is for everyone, regardless of personal resources. Please don't let cost be a factor in deciding to be a part of The Wellness Project. Let us know how we can support you. We are in this together. We mean it.*** 
***Sponsorships are subject to approval by the Sponsorship Committee. Sponsorships are limited, and will be granted on a first come, first serve basis as our sponsorship fund allows.